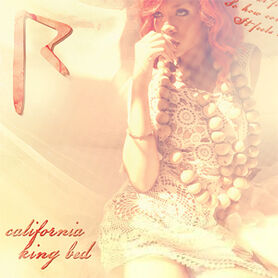 California King Bed
è un brano musicale della cantante barbadiana Rihanna, pubblicato come quinto singolo internazionale (il sesto per gli Stati Uniti) estratto dal suo quinto album, Loud. Scritto da Priscilla Renea, Alex Delicata,Jermaine Jackson e Andrew Harr, è stato prodotto da questi ultimi due, che formano il team di produzione hip hop The Runners. Dal profilo musicale,
California King Bed
è una ballad che incorpora alcuni elementi di musica rock.
California King Bed
ha raccolto responsi controversi dalla critica musicale, che hanno concentrato le opinioni a proposito della resa vocale di Rihanna. Il brano ha finito col piantarsi al trentasettesimo posto negli Stati Uniti dopo aver fluttato per diverse settimane nella classifica. Il singolo ha riscontrato un modesto successo a livello internazionale, raggiungendo la numero uno in Polonia e Slovacchia, e le prime cinque posizioni in Australia, Austria, Germania e Nuova Zelanda.La copertina del singolo è stata mostrata in anteprima il 22 aprile 2011 sul profilo ufficiale Twitter della cantante.Il brano entrerà nelle rotazioni radiofoniche a partire dal 13 maggio 2011.
California King Bed si discosta dal punto di vista stilistico dai precedenti estratti da Loud: è una ballata intensa e romantica, molto impegnativa a livello vocale, nel quale il suono della chitarra acustica si alterna a quello dell'elettrica dei ritornelli.
Nei primi del mese di marzo 2011, Rihanna ha dato ai suoi fans la possibilità, tramite Twitter, di scegliere il suo prossimo singolo tra Cheers(Drink to That), Man Down, California King Bed e Fading. Per il brano favorito sarebbe stato girato un video musicale sul finire dello stesso mese. Il 12 maggio 2011 fu annunciato che la scelta dei fans fosse ricaduta su California King Bed.
Il brano è stato eseguito in anteprima da Rihanna il 3 aprile 2011 agli Academy of Country Music Awards e il 14 aprile 2011 ad American Idol. In Italia, è la colonna sonora dello spot pubblicitario di Nivea.
Stacey Anderson da Spin ha scritto che "California King Bed è una ballad straziante dedicata alla fine di una relazione, allo stadio di limbo prima dello scontro finale. È così ben pronunciata, infatti, che è dura da ascoltare." Ryan Dombell da Pitchfork Media ha detto che California King Bed è una power ballad in stile I Don't Want To Miss A Thing progettata geneticamente per la colonna sonora di un rom-com della costiera Kate Hudson, L'autore Daniel Brockman da The Phoenix ha recepito il brano come un innocuo soft jam. Andy Gill del The Independent ha letto il brano come una grande power ballad che scioglie e contenente la miglior prestazione vocale di Rihanna. Andy Kellman da Allmusic invece l'ha denigrato definendolo un "affaticato piagnone rock".